Deburring Challenging Cross Bores on a Valve Fitting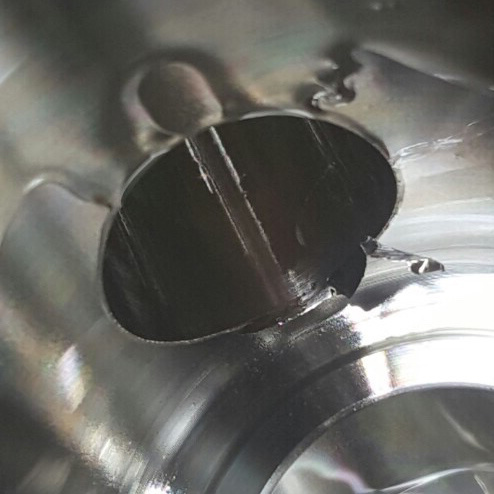 Challenge:
A hydraulics manufacturer used to deburr all their valve fittings by hand. HEULE contacted them to see if there might be a suitable tool solution in the X-Bores line of tooling to solve this complex application situation that would improve the manufacturing process while saving them time and money.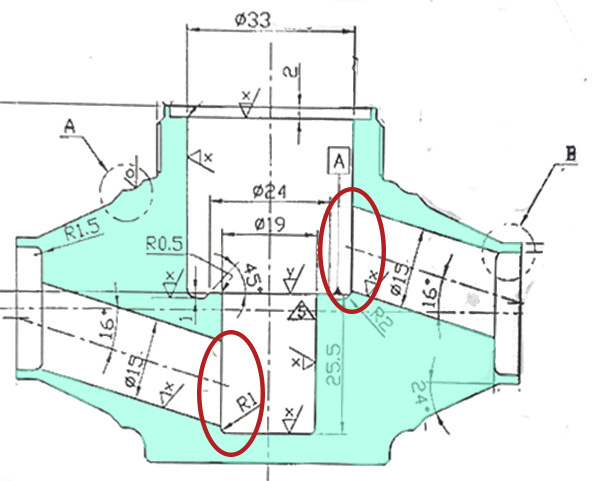 Main bore-Ø Bore on the right: Ø33.0 mm
Crossbore-Ø Bore on the right: Ø15.0 mm
Challenge: Bore angle 16°
Main bore-Ø Bore on the left: Ø19.0 mm
Cross bore-Ø Bore on the left: Ø15.0 mm
Challenge 1: Bore angle 16°
Challenge 2: There is no work space for the tool at the bore intersection (R1).
Material: SS316
Machine: Doosan Horizontal Machine
Solution:
The trials with tools with the COFA-X-function principle have been carried out directly at the customer's plant. The access to the bore edges to be deburred is via the crossbore. The following tool configuration has been used.:
Tool: COFA C6X-O-1000
Blade: C6X-M-0001-A, backwards cutting only

Machining parameters:

Speed: 10 m/min.
Feed: 0.07 mm/rev.
Results:
The customer's main interest was the replacement of the manual deburring work. Due to the large production volume of these parts, the considerably lower process costs as well as the higher reliability had an immediate impact on the company's efficiency and profitablity.

Image 1: Inner bore edge bottom left (No harm to main bore wall)

Image 2: Inner bore edge top right