COFA
Swiss Precision Since 1961
COFA
The Universal Deburring Tool
Specifically designed for front and back deburring on even and uneven bore edges using CNC machinery
Perfect for a range of cross hole deburring applications including sloped bores
ID/OD deburring
No stopping or reversing the spindle
Even and consistent edge break
Suitable for all ranges of machine materials
Available in smaller sizes for micro-deburring applications
Coated carbide blades guarantee a long tool life and faster feeds and speeds
Typical applications include forks, yokes, common rails, castings, tubes with cross bores, and other work pieces with cross bores in main bores
Available in both First Generation COFA and New Generation COFA-C for larger edge breaks.
Available from stock for immediate delivery in sizes from 2 mm to 41 mm (0.090" to 1.614")
Cassette option available for larger hole sizes
View more catalogs/videos and technical information for COFA
How Does Heule's COFA Work?
Controlled by a simple spring, the carbide cutting blade follows the contour of the hole's surface removing all burrs while creating an even tapered corner break. The blade does not cut as it passes through the bore and will not damage the hole's surface. The edge break begins only at the point where the blade makes contact with the material and then tapers the hole's edge. This allows for faster feed rates since the tool slows itself down as it enters the through hole.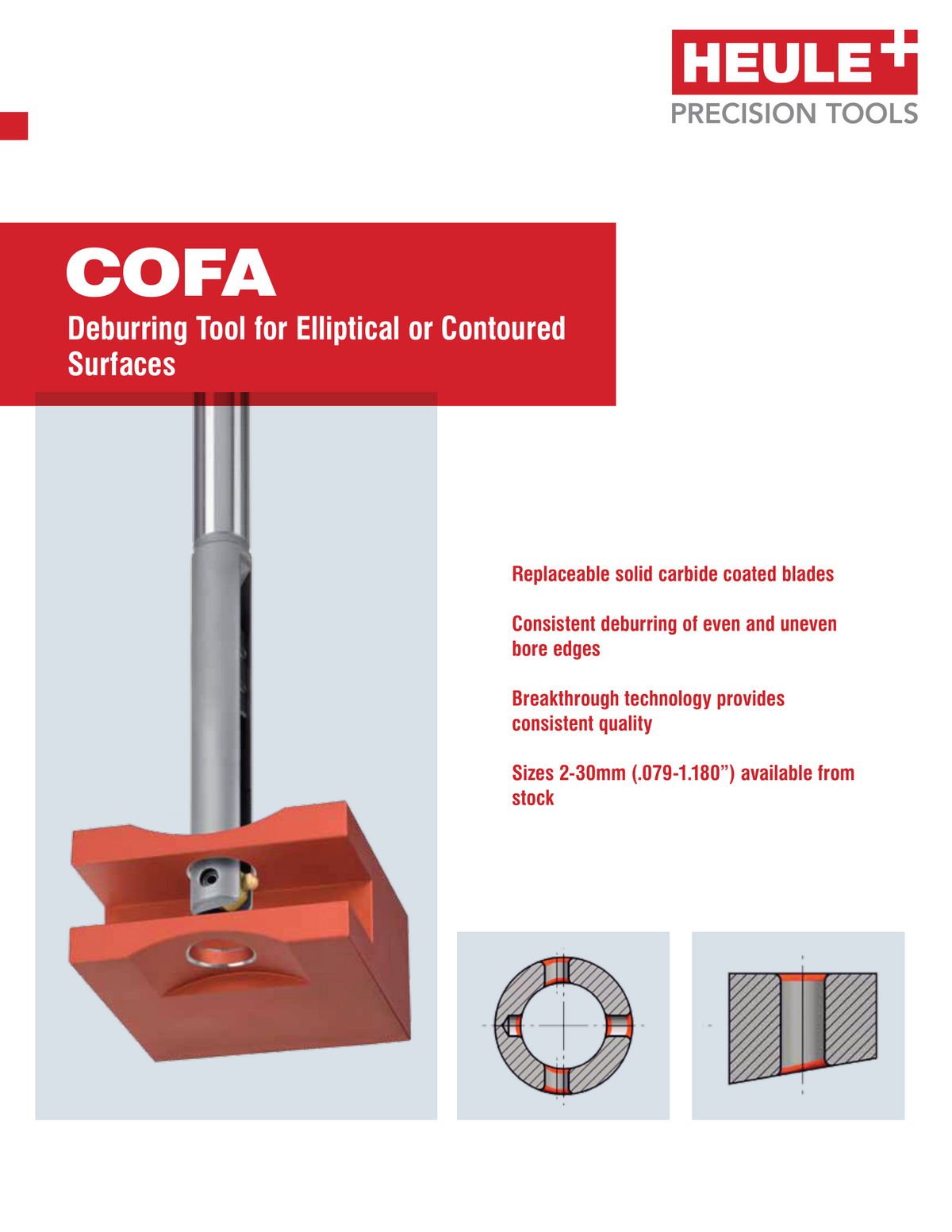 How Do I Order COFA?
1. Choose the tool that best fits the hole diameter. You can use our Tool Selector for assistance.
2. Choose the blade that best fits the hole geometry.
3. Choose the spring that best fits the material.
COFA Case Study
Eliminating Manual Deburring of a Steering Column Component
"Our production is up and tool cost is down. The COFA tool made a big difference on this part."
Need help selecting a tool? Visit our online Tool Selector and go to the Locate Agent page on our website to find your local technical sales representative. For more assistance, contact us at info@heuletool.com or 513-860-9900 and we'll be happy to point you in the right direction.