SNAP
Swiss Precision Since 1961
SNAP
The Precision Chamfering Tool
A simple tool for deburring and/or chamfering through holes on the top and bottom
No need to reverse the spindle, dwelling, or indexing the part
Ideal choice for high volume manufacturing
Coated carbide blades ensure long tool life
Easy blade changes increase production efficiency
Blades are ground with patented geometry developed by HEULE to produce quality chamfers and eliminate secondary burrs
Solid body design provides the highest durability of any deburring tool
In Stock & Available in sizes from 2 mm to 25 mm (.079"-.984")
Cassette option available from stock for larger hole sizes
View more catalogs/videos and technical information for SNAP
How Does It Work?
As the rotating tool is fed into the hole, the front cutting edge deburrs the top of the hole by cutting a 45° chamfer. As the tool feeds into the part, the blade is forced into the body and slides in the blade window.
When the blade is in the hole, only the ground sliding surface touches the hole protecting it from damage while the tool is fed through the part. There is no need to stop or reverse the spindle.
When the blade reaches the back of the part the coiled spring acts with the control bolt to push it back out into cutting position. The back edge is deburred and chamfered as the tool is withdrawn. When the blade is again in the hole, the tool can be rapid fed out and on the next hole.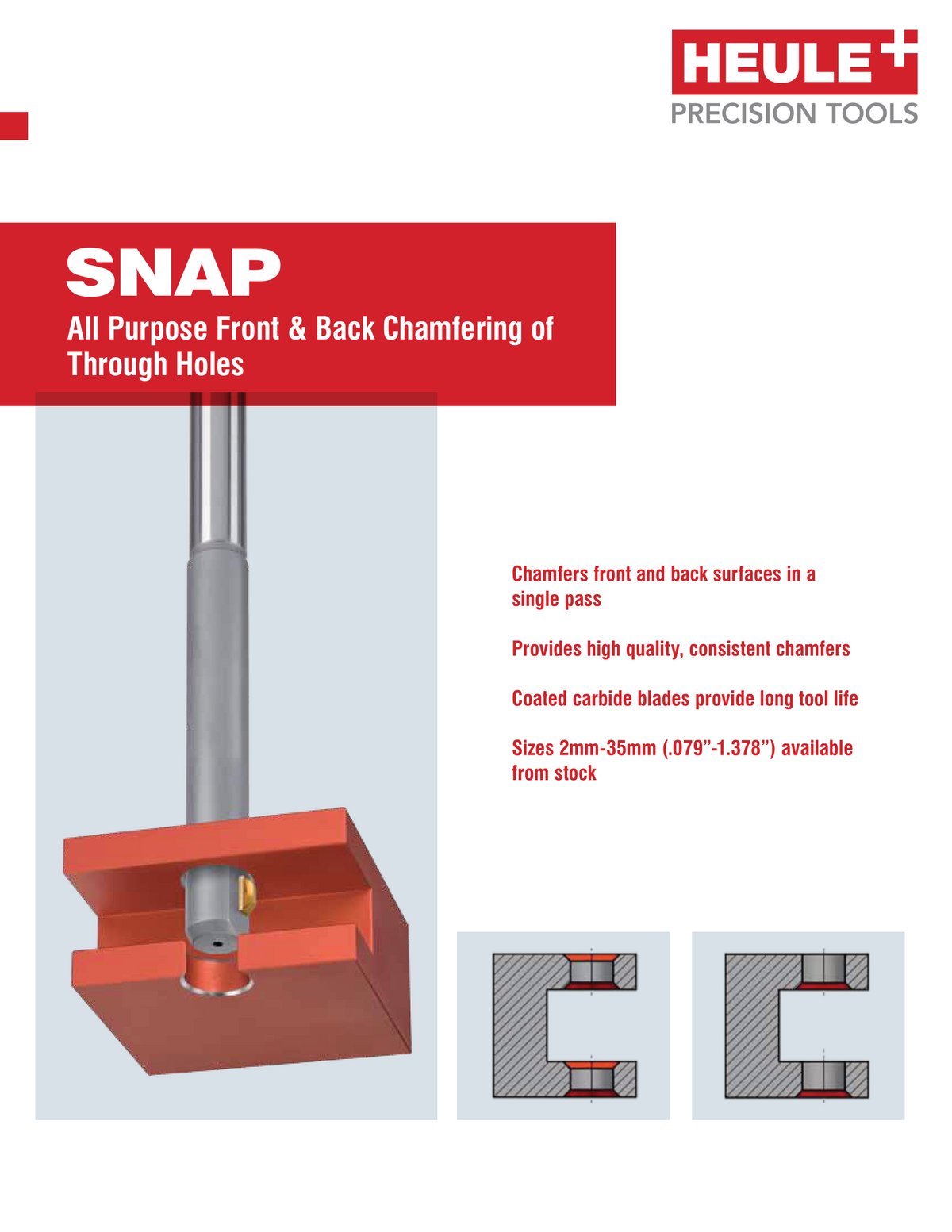 How Do I Order a SNAP?
1. Use the bore size to select a tool body. Ød
2. Select the largest tool that fits the bore. Use our Tool Selector for assistance.
3. Use the desired chamfer size to select a blade. ØD
4. Select the proper cutting blade.
Please note: tools are sold without blades.
View SNAP Application Data Sheet
SNAP Case Study
Simplifying Chamfering Process With The Automated SNAP Tool
"We got the consistency we needed to keep our production going AND saw a $45,000/yr savings in time and labor."
Need help selecting a tool? Visit our online Tool Selector and go to the Locate Agent page on our website to find your local technical sales representative. For more assistance, contact us at info@heuletool.com or 513-860-9900 and we'll be happy to point you in the right direction.